JORNAIS ANTERIORES
Dezembro 2018 / Número 25

---
O INSTITUTO SACATAR dirige um programa internacional de residência para artistas na sua sede na Ilha de Itaparica, que fica na Baía de Todos os Santos na região metropolitana de Salvador, Bahia, Brasil.
Promova o Intercâmbio Cultural Através das Artes
Durante esses tempos de ressurgimento do "nacionalismo", o envolvimento internacional é mais importante do que nunca. Nos últimos dezesseis anos, o Sacatar forneceu oportunidades para mais de 350 artistas de mais de sessenta países. Considere fazer uma doação generosa para que o Sacatar continue a promover o engajamento internacional, colaboração e respeito.
Taylor Van Horne
Diretor Executivo
---
Sacatar em 1 Minuto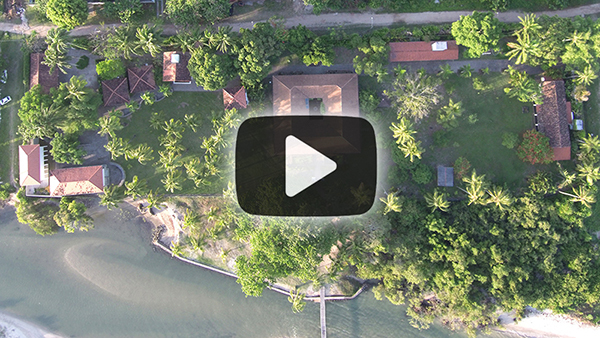 ---
Estou de volta em segurança em Joanesburgo, mas definitivamente deixei uma parte de mim no Sacatar. É um lugar incrivelmente especial.    
CARA STACEY (África do Sul 2018)
---
Artistas Residentes do Sacatar de 2018
Estes são os artistas que desfrutaram de tempo não estruturado para produzir novos trabalhos, sozinhos ou em colaboração, no Instituto Sacatar em 2018: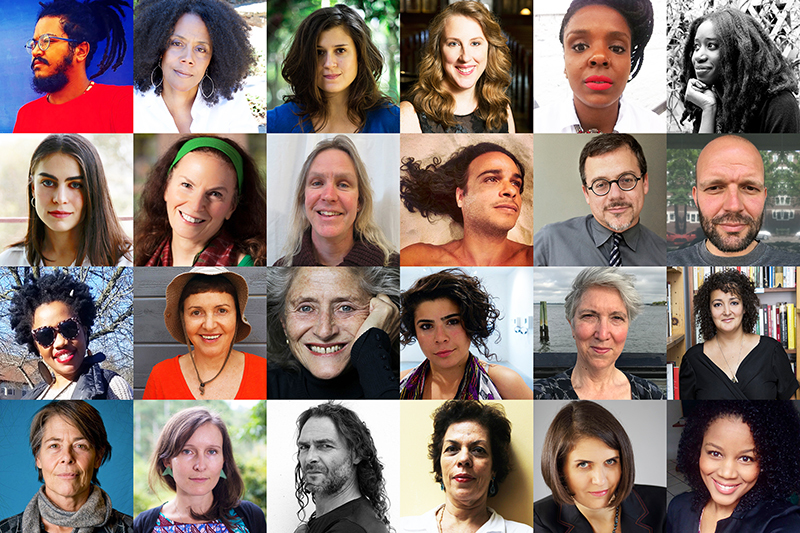 A maioria desses artistas permaneceu por oito semanas completas de sessões de residência, durante as quais o Sacatar forneceu acomodações privadas, refeições, um estúdio de trabalho separado e apoio logístico para envolver comunidades locais e indivíduos relacionados às áreas de interesse dos artistas.
DANCE, PERFORMANCE AND EXPERIENTIAL ART:  Amara Tabor Smith / USA; Val Souza / Brazil; Mikhael Tara Garver / USA
FILMMAKING: Ahmad Mahmoud / Sudan
LITERATURE – ENGLISH LANGUAGE:  Alexandra Pechman / USA; Carolyne Wright / USA; Erica Connerney / USA; Victoria Bulley / UK (PPP)
LITERATURE – PORTUGUESE LANGUAGE:  Caroline Rodrigues / Brazil; Tatiele Silva / Brazil (FUNCEB); Isa Trigo / Brazil
CURATING:  Paul Roth / Canada
PHOTOGRAPHY / VISUAL ARTS:  Estabrak Al-Ansari / Iran > UK; Diana Blok / Uruguay
MUSIC:  Cara Stacey / South Africa  (Africa Centre); Deanna Witkowski / USA; Raminta Serksnyte / Lithuania
VISUAL ARTS – MULTIMEDIA:  Bia Gayotto / Brazil; Fábio Duarte / Brazil; Florence Neal / USA; Fred Martin / France; Sara Roberts  / USA; Pieter Paul Pothoven / Netherlands; Victoria Udondian / Nigeria
---
Eu não posso acreditar que faz um ano desde que eu fiz parte do projeto … cumprimentar todas as pessoas maravilhosas que ajudaram a tornar a experiência inesquecível!   
SAM AUINGER (Alemanha  2017)
---
Press Releases
Clique nos links para ver os press releases de cada grupo que veio ao Sacatar em 2018:
---
É difícil explicar quão profundamente fui impactado pelo meu tempo lá. Não resultou inicialmente em grandes obras de arte para mim, mas me transformou de maneiras que ainda não posso articular.
Eu quero descobrir como nutrir essa mudança e o relacionamento com a ilha de maneiras que possam ter um impacto positivo e duradouro no Sacatar e na comunidade de Itaparica.
AMARA TABOR SMITH (EUA 2017)
---
Envolvimento Comunitário
Clique nos links para ver fotos e pequenos vídeos dos eventos:
Apr 21  |  Sacatar at Jam no Mam at the Museum of Modern Art with Deanna Witkowski […]
Apr 26-27   |  Arts Rights Justice Laboratory at Goethe Institut Salvador […]
May 18  |  1ª Semana da Diversidade da Ilha de Itaparica with Amara Tabor Smith […]
May 22-24  |  Poetry Workshop by Carol Rodrigues […]
May 25  |  Piano Workshop by Deanna Witkowski at UFBA […]
May 28  |  Sacatar Open Studio Day […]
Jun 18  |  Conversas com Sacatar Public Presentation […]
Jul  3  |  VIII Mostra de Performance with Fabio Duarte […]
Aug 3  |  Sacatar Open Studio Day […]
Aug  9  |  Sacatar at Festa Literária Internacional do Pelourinho  FLIPELÔ […]
Aug 30  |  Conversas com Sacatar Public Presentation […]
Aug/Sep  |  Mokuhanga Workshop by Florence Neal […]
Oct 10  |  Sacatar Open Studio Day […]
Nov 1  |  Conversas com Sacatar Public Presentation […]
Nov 3  |  Collective Poetry Workshop by Tatah Café during FITA […]
Nov 4  |  Installation Work by Fabio Duarte during FITA […]
Nov 24  |  Jam no Mam at the Museum of Modern Art with Cara Stacey […]
Dec  13  |  Sacatar at Ciclo de Música Contemporânea  […]
Dec  13  |  Sacatar at Zona Fluxus […]
Dec 14  |  Sacatar Open Studio Day […]
Jan 7  |  Baiana System concert at the Festa do Caboclo in Itaparica  […]
---
Não há como melhorar o que já é perfeito. Tudo funciona, e não como um hotel; Eu realmente me senti em casa.    
FABIO DUARTE (Brazil 2018)
---
Sacatar Solo 2018

O Instituto Sacatar tem o prazer de apresentar a banda Baiana System como seu mais recente participante do programa Sacatar Solo, realizado em agosto de 2018. Este projeto de residência curatorial acontece uma vez por ano e inclui artistas de renome convidados a trabalhar na sede do Instituto na ilha de Itaparica. É mais uma iniciativa para promover a arte e a criação no ambiente litorâneo rodeado de tranquilidade e inspiração.
---
Eu ficava acordando (às vezes 4:30 da manhã) com os pássaros pela manhã para ver o nascer do sol e as marés e de alguma forma eu continuava trabalhando até de noite. A energia lá estava exuberante.
FLORENCE NEAL (EUA 2018)
---
Notícias dos Ex-Residentes do Sacatar
Past Sacatar Fellows are invited to share news of their activities by sending information  to info@sacatar.org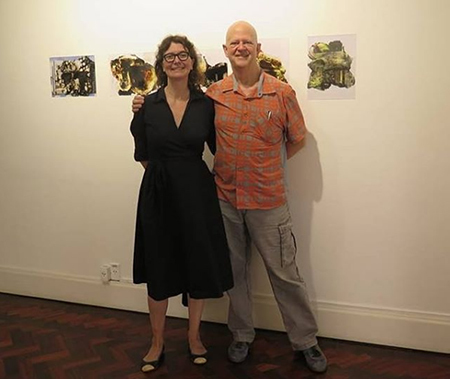 Instituto Sacatar director Taylor Van Horne and former Sacatar Fellow Cecile Martin (Canada 2014) @cecile1165 during her exhibition "Ilhas de Salvador" at the Goethe-Institut Salvador on August 2, 2018. More info 
Yumi Kori (Japan 2008); Jane Ingram Allen (USA 2002); Gordana Hajinovic (Serbia 2016); Mark Steven Greenfield (USA 2013); Derek Bermel  (USA 2017); Philip Boehm (USA 2016); Felipe Goes  (Brazil 2012); Scott Hocking (USA 2016); Sidiki Conde (Guinea 2004) and many others
---
Residências Artísticas criadas por ex-residentes do Sacatar!
Two art residencies were created by Sacatar Fellows Celia de Villiers (South Africa 2004) and Kostana Banovic (Serbia 2006). Check them out:

Ponte d'Arte
Ponte d'Arte (Arts Bridge) is an artist's retreat, residency and meeting point for knowledge exchange, surrounded by 1,5 hectares of wild gardens, on the banks of the Rio Alva, in Ponte da Mucela, Mid-Portugal (30 km from Coimbra). More info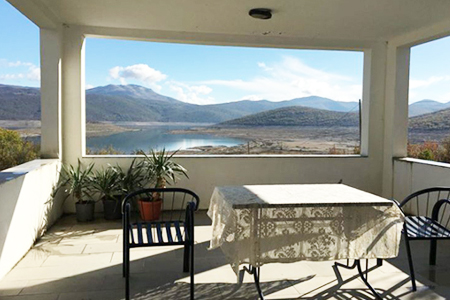 Kamen 
KAMEN is an independent artist-run residency founded in 2018 in Bosnia and Herzegovina to provide a space for a small number of artists, curators, and art-related researchers to live and work in proximity to one another, and engage in collaborative or solo projects.
More info
---
Música é minha vida e como a Bahia e meus sonhos alimentaram meus movimentos em 2013, graças ao Sacatar me trazer aqui, definitivamente mudou minha vida e agradeço que tenha acontecido.
OKWEI ODILI (Nigéria 2013)  
---
Mais Notícias do Sacatar
Taylor Van Horne and Mitch Loch with Video Brazil Executive Director Solange Farkas and Director of International Relations Daniel Escorel.

Res Artis Meeting Rovaniemi, Finland 2018
Sacatar Directors Mitch Loch and Taylor Van Horne attended the Res Artis conference, "Exploring Sustainability Under the Midnight Sun," In partnership with the Arts Promotion Centre Finland and the City of Rovaniemi. From 18 – 20 June 2018. Read more
---
From left, Marielson Carvalho, Luciany Aparecida, Sacatar Director Taylor Van Horne, Marcio Junqueira and Tom Correia.
Sacatar na FLIPELÔ
August 9, 2018 | at Faculdade de Medicina / Pelourinho, Salvador BA
Conference "Sacatar and the Creative Impact of Artistic Residencies in the Life of Artists of the Word" with four recent Sacatar residents:
– Luciany Aparecida (Bahia 2015)
– Márcio Junqueira (Bahia 2017)
– Marielson Carvalho (Bahia 2014)
– Tom Correia (Bahia 2015)
—————————–
During the Literary Festival of Pelourinho – Flipelô, Renata Dias (Fundação Cultural do Estado da Bahia / FUNCEB) and Augusto Albuquerque (Instituto Sacatar) took the opportunity to launch the Artistic Residence competition for Writers at Sacatar, a partnership between Instituto Sacatar and FUNCEB. See photos
---
And Traveling from the UK to Bahia…





Book cover. From left, Historian Jaime Nascimento, the author Sabrina Gledhill and Prof. Jeferson Bacelar (Ceao / Ufba), PhD supervisor and author of the preface to e-book.
The author Sabrina Gledhill, PhD (CEAO/UFBA) and member of Instituto Sacatar Board of Directors, launched her new e-book "Travessias no Atlântico Negro: Reflexões sobre Booker T. Washington e Manuel R. Querino". The expert analyzes the trajectories and antiracialist tactics of Booker T. Washington (1856/1915) and Manuel Raymundo Querino (1851/1923), within the context of the Black Atlantic. Despite the prestige they enjoyed in life, their images were dilapidated after death: Washington with the stain of "self-indulgent" and even "traitor of the race"; and Querino with the image of a "humble black teacher" of meager intellectual powers.
For sale at Amazon.com
---
Eu tenho muito amor por esse lugar especial … há energia pura, alegria, inspiração e beleza. HANNAH MORRIS (South Africa > USA 2008)
---
Relatório Anual do Sacatar 2017
For an overview of all Sacatar activities in 2017 click below.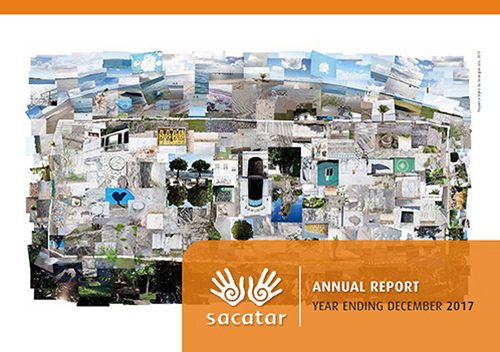 ---
Sacatar Co-Founder Observes and Reflects…
Just a week ago, I arrived on the island for an annual visit and just in time to participate in the opening night activities of the Festa do Caboclo, a local tradition that dates to early nineteenth century.   The centerpiece for this historic festival is a yellow-and-green chariot (familiar to Sacatar Fellows as the curious object displayed year-round within a brightly colored cage by the mayor's office) that was restored this last month on the Sacatar property by a team from IPAC (Instituto do Patrimônio Artístico e Cultural da Bahia). To commence the festival, local citizens, accompanied by a casual marching band, collectively push and guide (as well as protect!) their treasured chariot through the streets of Itaparica, following traditional hand-carried torches – all in celebration of the final battle that expelled the Portuguese from their last hold-out in Brazil.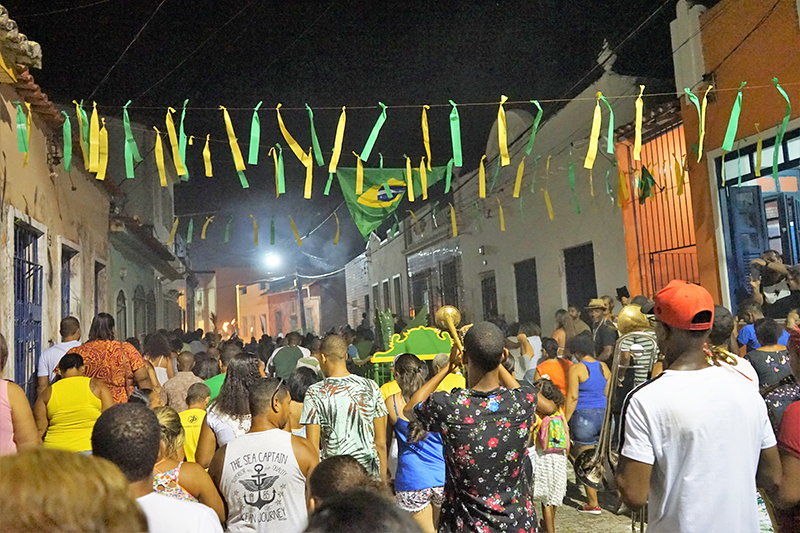 At the tail end of the procession, vendors, food stands, games, musical stage and family-oriented amusement offerings further bring the community together.  Looking at this photo below – that of a local child enjoying his moment on an inflatable playground – I ask the Reader these questions.  Will this festival still receive civic and cultural funding and support when he is an adult with perhaps children of his own?  How might the festival and the opening night procession evolve over time?  Will he have opportunities to travel beyond Bahia to experience other inspirational cultural traditions?  Will there be community role models or special teachers or artists to help him realize his creative potential?  Thinking more specifically about our upcoming 2019 project that will focus on Art and Ecology, what will be the geographical nature of his island as it continues to confront the environmental effects of climate change?  I ask these questions at the start of a new year at Sacatar.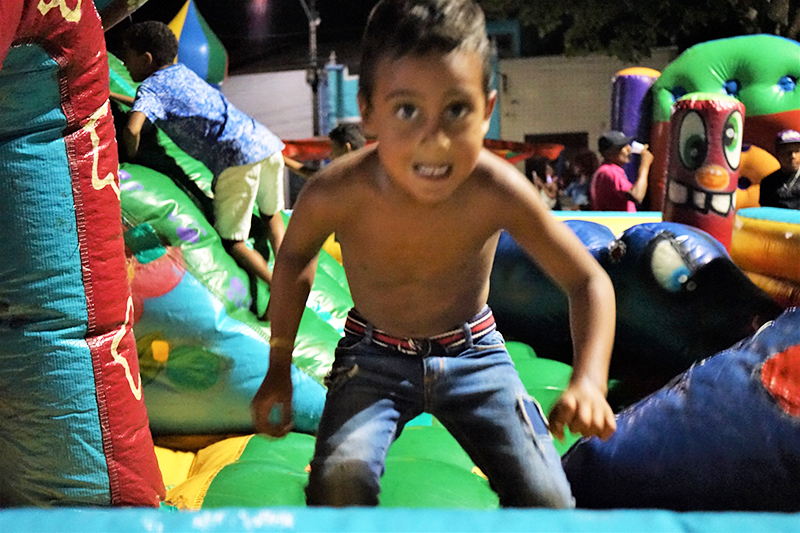 MITCH LOCH, President, Sacatar Foundation, US
---
WHAT IS A NEWSLETTER WITHOUT A FUNDRAISING PITCH?
"Tis a place like none other, where you can fly from your muddle to land in the middle of influence protean and profound. There lies an other worldly culture, compelling, flamboyant and hidden on that I-land of curious breezes, beckoning waters, and the wile'd lives of flora and fauna at your deck and crawl. Horses stroll in the surf amidst the heartbeat of drums and the sun beams at your progress. Work wasn't always easy but it was never hard with inadvertent inspiration from the fecund surrounds, a casual conversation or an unexpected collaboration.
Sacatar provides an exultation of senses and sensibilities that can lead you happily astray. It is a place of wander, an I'll of Possibilities constructed for artists far from home. Nonetheless it is a vision precarious to maintain so far out to see. For those of us who know its astounding magic firsthand, we can actively participate in its future. Keep the juju going, for yourself, and for others."
PAT OLESZKO, New York performance artist (USA 2008  & 2016)
---