Previous Newsletters
February 2013 / Number 17

---
UPCOMING ARTIST SELECTIONS



We've been receiving lots of inquiries about our upcoming deadlines, which we have not yet announced.  At the end of 2013 we will announce the deadline for our next open unrestricted application process for artists of all ages, disciplines and nationalities.  In August we will announce the deadlines for:
The UNESCO/Aschberg bursaries (restricted to artists between the ages of 25 and 35 and not from the Americas or Western Europe

The Cultural Exchange International Fellowships awarded through the Department of Cultural Affairs of the Municipality of Los Angeles (restricted to artists living in Los Angeles County in the USA).
We may announce deadlines for additional restricted selection processes as we continue to develop strategic alliances and partnerships. All deadlines are announced here in our newsletter as well as at www.sacatar.org under APPLICATION.
RESIDENCY SESSION: OCTOBER-DECEMBER  2012



You can read about the experiences of these most recent Fellows in their own words by clicking on their names. Here is a brief summary of what the last group of Fellows did.
AMY "CATFOX" CAMPION (USA)
Working with local dancers and technical crew, Amy wrote, choreographed, danced in and directed a dance film in which she conjoined the stories and dances of the orixáswith breakdancing. Filming took place across the island of Itaparica and on locations in Salvador.
CRISTINA RASCÓN-CASTRO (Mexico)
In addition to writing new works based on the movement and rhythm of Brazilian music and dance, Cristina worked with a local translator to translate one of her books from Spanish into Portuguese.  She also gave several readings of her work and presented creative writing workshops, including one with thirty students from the Jutahy Magalhães School, adjacent to Sacatar.  She also gave an interview to our local radio station, Rádio Tupinambá.
ERNESTO DIAZ (Mexico)
Ernesto worked on a low-cost computerized electronic percussion orchestra controlled by a single musician and capable of performing at a rate impossible for human hands.
JUSTIN SHOULDER (Australia)
Justin designed new 'Fantastic Creatures' for future performances, inspired by the local culture and particularly by the orixás, which are the deities of the candomblé tradition, and by the eguns, the incarnated spirits of ancestors through a religious tradition out of west Africa which is uniquely practiced in Brazil on the island of Itaparica.  As part of his research, he visited terreiros where these religious ceremonies take place and took classes in the percussion and dances of the orixás.
MATT SHERIDAN (USA)
Matt developed video animations from paintings he had produced prior to his arrival in Bahia. He also did video installations, often on extremely short notice, at the Library and Cultural Center of Itaparica, in the colonial neighborhood of Salvador known as the Pelourinho and in the historic city of Cachoeira through an invitation from the Federal University of the Recôncavo.
Matt came to Sacatar through our partnership with the Los Angeles Department of Cultural Affairs.
MAYA WATANABE (Peru > Spain)
Maya finalized work on a three-screen video installation featuring sacred texts taken from the Torah, Bible and Quran and spoken in their original languages (with subtitles!) Ernesto collaborated closely with her on the sound design. Later in her residency she began a new work, inspired by her stay in Itaparica.
Open Studio Day
On the last Friday of their residency, the Fellows opened the doors of their studios and shared their work with about fifty members of the local community. 
The VISIO 'Salons'
A recurring 'gripe' from departing Sacatar Fellows has been the difficulty of meeting and collaborating with artists based in Salvador.  Late last year we  learned about Visio, an informal network of active Salvador-based artists who share their portfolios monthly in a casual atmosphere.  We approached Visio to host two 'salons' featuring the Sacatar Fellows, with three Fellows presenting in each session. These salons really helped to 'break the ice' and several significant collaborations ensued.  For example, Amy 'Catfox' Campion met at her Visio presentation many of the people with whom she ended up collaborating.  In fact, they came to Visio to 'check her out,' without any obligations. After this initial success, we now plan to give all incoming Sacatar Fellows this opportunity to meet their professional peers in a relaxed exchange through the Visio 'salons.' 
Please come! The next Visio salon will be held on the afternoon of Thursday, February 28, at the Museu de Arte Moderna da Bahia in Salvador. 
and the beat goes on…
Although their residencies at Sacatar ended in December 2012, Ernesto and Maya continue to collaborate. They will conduct workshops in audio and video arts for 69 children in Peru in February 2013. They will also continue to refine the video Maya edited during her residency, creating a three channel soundtrack for the three screens of the video. Matt and Amy plan to apply to secure funds for a performance collaboration at the REDCAT Theater  in Los Angeles, USA.  Amy has begun to edit her video footage and Ernesto is working with Amy on the soundtrack for the film. What is amazing is that these artists all met each other for the first time at Sacatar.



PARTNERED FELLOWSHIPS

UNESCO/ASCHBERG BURSARIES
Our long-standing partnership with UNESCO/Aschberg began in 2002.  Since then we have hosted twenty-one artists with UNESCO's support. In 2012 we received 194 valid applications from 57 countries for three UNESCO/Aschberg bursaries, in creative writing, music composition and visual arts.  We advanced ten candidates to UNESCO/Aschberg in Paris, France, where the final selections were made.  The following bursary recipients will be in residency from 6 May to 1 July 2013:
Magnolia Wilson, a poet from New Zealand

Veronny Odili, a musician from Nigeria

Vilma Samulionyte, a photographer from Lithuania

LOS ANGELES DEPARTMENT OF CULTURAL AFFAIRS
We are pleased to continue our partnership with the Municipality of Los Angeles' Department of Cultural Affairs. To date, the Cultural Exchange International program has co-sponsored five Sacatar Fellowships for artists living in Los Angeles County. In 2012 Sacatar received 47 applications from Los Angeles County artists.  Sacatar advanced the applications of eight artists to the Department of Cultural Affairs, which will announce the recipient(s) of one or two Fellowships in February 2013.

AFRICA CENTRE
We are also pleased to continue our partnership with Africa Centre, in Cape Town, South Africa.  In 2012 Sacatar evaluated nominations submitted by Africa Centre and awarded residency Fellowships to:
Tendai Huchu, a writer from Zimbabwe, currently living in Scotland

Anani Sanouvi, a dancer/choreographer from Togo, currently living in the Netherlands. 
Tendai and Anani will be the fifth and sixth artists to receive Sacatar Fellowships through our partnership with Africa Centre.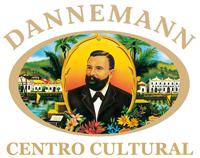 SALÃO DO RECONCAVO
For the third time Sacatar has awarded a residency prize through the Salão do Reconcâvo, a regional biennial organized by the Fundação Dannemann in São Félix, Bahia, which draws thousand of applications from across Brazil.  This year, the residency prize has been awarded to:
Nerize Portela, a video-artist from the Brazilian state of Minas Gerais.
Our congratulations to these future Fellows!



FORMER FELLOWS IN BAHIA
The  former Fellows
have all succumbed to saudades and have returned or are planning to return to Bahia very shortly. Click on the Fellows' names above to go to their ALUMNI pages.
In November RIK FREEMAN returned to inaugurate the mural he created as a gift to the library and cultural center of Itaparica. The mural depicts the moment when local heroine Maria Felipa drives away the Portuguese soldiers, beating them with a particularly vicious local variety of poison ivy. During his too brief stay, he also painted a mural on the wall of Amigos, a favorite restaurant of the Sacatar Fellows.

SCOTT BARTON returned to Bahia in January and will stay all year in order to conduct research for his doctoral thesis on the food of the African diaspora within candomblé.
JANE COFFEY returned to participate in the various celebrations in honor of Yemanjá, the orixá of the ocean. Every year on February 2, several hundred thousand people converge on the beach in the Rio Vermelho neighborhood of Salvador to offer gifts to the Queen of the Sea. In a lesser known festival on the same day, the eguns — the incarnated ancestors — offer gifts to Yemanjá from Ponta de Areia, a neighborhood just down the beach from Sacatar.  On the following day, February 3, the living of Itaparica send their gifts out in boats from Amoreira, also just down the beach from Sacatar.  Jane came to attend all three ceremonies as research for a novel that nears completion.
DIANA BLOK was also here in Itaparica during the Yemanjá festivals. The first photograph in this issue of the Jornal Sacatar was taken by Diana at the Festa de Yemanjá in Ponta de Areia, Itaparica, Bahia, on 2 February 2013.
ARIEL DE BIGAULT is spending a month in Bahia teaching a course on video production to the students at the TV Pelourinho, a frequent collaborator of the Instituto Sacatar.
You can read what SOLANGE LIMA will be up to under NEWS OF FELLOWS later in this newsletter.
---
TIA CIATA TROPHY
The Tia Ciata Trophy is awarded annually to individuals and organizations that make a significant contribution to the local arts and culture. This year Sacatar was honored to be among the recipients.  The sambista Alaor Macedo awarded the trophy at a ceremony held at the marina of Itaparica in November 2012.  The trophy acknowledges the founding director Taylor Van Horne (curiously spelled Tailor Van Horn) and the Instituto Sacatar.
---
NEWS OF FORMER FELLOWS
Here is an incomplete sampling of the extraordinary diversity of work currently produced by former Sacatar Fellows, some  of which was developed during their residencies. We regret we can't publish everything we receive from former Fellows, but we love to know what you all are up to, so please stay in touch! To see our former Fellows' ALUMNI pages, just click on their names.

ADRIANA ROJAS PRETEL (Colombia, 2008):
"MI CIRCO (which means MY circus, which also means YOUR circus, which also means the circus of ALL OF US) is a non-profit and independent community Circus that has been traveling around the world since 2005 with its magic circus tipi sharing and bringing joy, creativity and education though the arts and circus practice for the girls and boys of different languages, communities and cultures…In January of 2013 we will go to NUQUI and JURIBIDA (you can google this very, very little towns in the Pacific coast in Colombia). Very isolated Afro- Colombian communities. If you want to support MI CIRCO in NUQUI, there is no tuition for the attending children; We rely solely on local sponsors, arts grants and private donations… Contact us through FB or e-mail us to r_ginebra@hotmail.com to find out how to donate."
As a direct result of her Sacatar residency, Adriana joined Fellow BE WARD (Australia, 2008) and produced these games and training with aboriginal communities of Papunya, Northern Territory, Australia: http://www.youtube.com/watch?v=YFeQttQ70-o
CLAUDIA JOSKOWICZ (Bolivia > USA, 2012) The Kadist Foundation has purchased Claudia's trilogy of videos: 'Round and Round and Consumed by Fire' (2009), 'Vallegrande, 1967' (2008), and 'Drawn and Quartered' (2007). These videos, produced on location in Bolivia, recreate three deaths of famous figures in Bolivian history and their effect on the country's mytho-historic landscape. You can view these compelling, dreamlike videos on Claudia's website: www.joskowicz.com
DAMIEN SCHUMANN (South Africa, 2011) After Damien's return to the USA / Mexico border to further document Cuidad Juarez, the 'Nuestra Casa Initiative' was exhibited last year at the Centennial Museum of the University of Texas, El Paso, USA. The NCI exhibition will move to Las Vegas in 2013. Damien thanks Project Concern International and UTEP for their efforts in making this project such a success.
An ongoing project in 2013 addresses food security by following the culture of eating meat in the informal townships surrounding Cape Town. As part of this study, Damien is collaborating with a pathology lab to document the internal effects of our actions.
Here's a portfolio of images he created during his residency: 
http://dspgallery.com/off-season

DANNY GWIRTZMAN (USA, 2003) The Daniel Gwirtzman Dance Company — an ITE 2012-13 Space Grant Winner — will present a showcase of new choreography at the Red Bean Studios on West 37th Street, New York, NY, USA, on Sunday, 17 February at 18,00h.  After the showing there will be a wine reception and an opportunity to meet and interact with the dancers.
Danny will return to Sacatar in May for a second residency, ten years after his first.  Ten years ago we had not yet built the five additional studios, including the dance studio, so he will see some big changes.

DAVID POZNANTER (USA, 2008):
"I've been on the (Indian) subcontinent for almost 18 months now…Life in general has actually been pretty weird, but also pretty wonderful… There's a great local Capoeira group that has kept my soul alive. A VERY surprisingly wonderful group in fact!… I feel very much the soul of Capoeira here and it's a big help when I feel disconnected to show up in class and get big hugs and Brazilian (slap bump) high fives.  I'm wrapping up around May and looking forward to the future. I have a lovely circus career waiting for me back in LA if I decide to go there, but I also have an Indian dude from the UK who's flying out here from England to start building a new dance duet that he wants  to tour in Europe. But I'm also putting the final touches on a proposal for a huge circus (so far we're looking at about a half million dollar budget before opening night!) for me to cast and direct at the nicest theater in India, outside of Delhi. VERY excited about that possibility, so in the next few weeks we'll see what happens…And finally there's the documentary… remember all the filming I did when I was at Sacatar? Well, it took me a few years, but it's finally finished, in a 13 minute film about Capoeira União. I held off on sending you the link as there were a few final touches I wanted to make, but I've…finally decided to just accept it as is. So, check it out!"
www.youtube.com/watch?v=Z6XCOgf_HKc&list=UUrV21awaMJwpeHPT8sbEeoQ&index=1

DEREK BERMEL (USA, 2007) has released a CD of recently recorded compositions, entitled 'Canzonas Americanas' and featuring the Brazilian vocalist Luciana Costa performing 'Itaparica,' which she had premiered with the Los Angeles Philharmonic Orchestra in 2010. Available at amazon.com as a CD or i-tunes.

EJ LEVY (USA, 2006) Her recently published collection of short stories, 'Love, In Theory,' is the winner of the Flannery O'Connor Award, just got a Starred Review in Kirkus and is nominated for a number of awards, including a Pulitzer and the National Book Award. 'Love, In Theory' is one of two books that EJ worked on at Sacatar.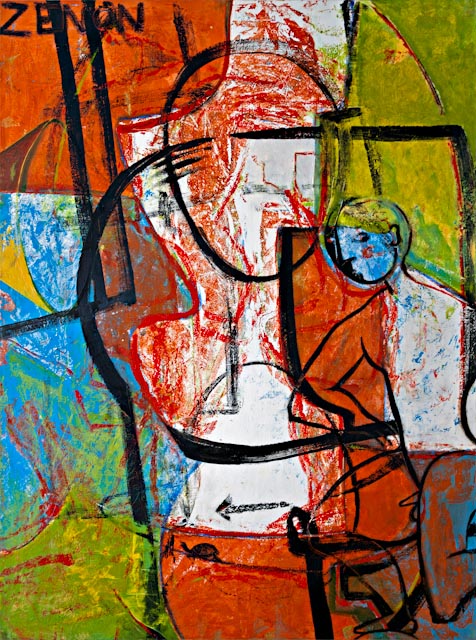 ETIENNE YVERS (France, 2009) exhibits 'Faits d'Yver' through 9 February 2013 at the Point Rouge Gallery, 4 rue du Dahomey, 75011 Paris, France.
FRENCH–MOTTERSHEAD (UK, 2008) Rebecca and Andrew have a new installation '10 Acts',  launched 11 January in Brighton, England. It's a series of photographs in light-boxes they've made with local people that explore how personal moments help make public space. The work has been made especially for the city's Jubilee Square. The installation will be in place through 10 March 2013.
JAAKKO HEIKKILA (Finland, 2008)  has an exhibition of his large format photography at the Galerie Ruth Leuchter in Dusseldorf, Germany, through 2 March 2013.
JANE INGRAM ALLEN (USA, 2002) will go back to Taiwan from March to mid-May to oversee the Cheng Long Wetlands International Environmental Art Project again.  Here is a link to her short video 'Just Add Water': www.youtube.com/watch?v=jk_Q1_oa7zQ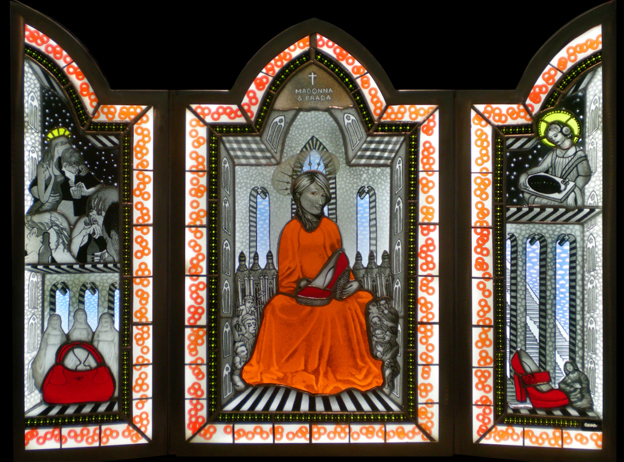 JOSEPH CAVALIERI (USA, 2011): The Museum of Arts & Design  in New York, USA, has purchased his stained-glass triptych, 'Madonna & Prada: A Day in the Life of Madonna,' for its permanent collection.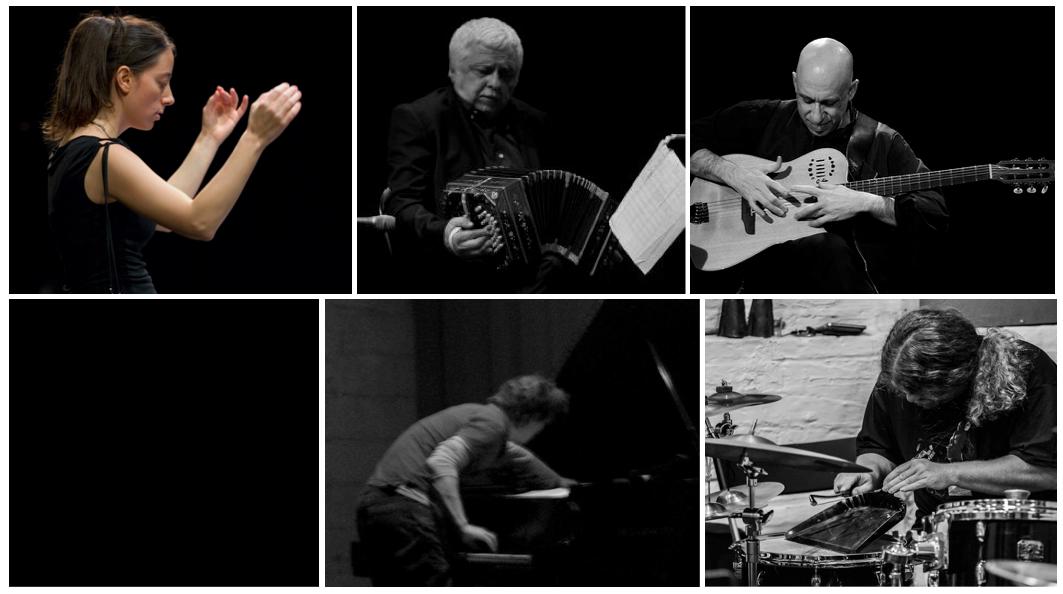 LAURA ANDEL (Argentina>USA, 2004) performed New Music Explorations in collaboration with Daniel Binelli (bandoneon), Elliott Sharp (guitar), Carl Maguire (Fender Rhodes), Andrew Drury (percussion) on Saturday, 2 February, 2013, presented by ROULETTE CONCERT SERIES, 509 Atlantic Avenue, Brooklyn, New York, USA.
LINDA YUDIN (USA, 2012):
"I have created a 8-minute video highlighting my wise mentors who joined me at the at the Sacatar Institute so that I could record their oral histories, their wisdom of orixá and samba dances, songs and stories. Over the two-month period, I recorded the oral histories of my mentors from the candomblé community of Salvador and Saubara including Dona Cici, Zelita, the late Mãe Alice (through her daughter Edinha), Dona Detinha, and Mainha. I have over 70 hours of footage. With further funding, I will continue to translate the many hours of oral history footage from Portuguese to English and to create a full length documentary. My residency at the Sacatar Institute was funded by the City of Los Angeles, Department of Cultural Affairs through its Cultural Exchange International Fellowship Program and the Sacatar Institute."
MAJA KLARIC (Croatia, 2012)
"In October I published a collection of poetry, 'Život u ruksaku' ('Life in a Backpack') and started travelling across Croatia promoting it. As it usually goes, during those promotions I talk not only of poetry but also about my travels, the most interesting always being Brazil. Everybody wanted to hear everything about it…Furthermore, my next collection of poetry is already in the process of editing. A renowned Croatian publisher called me and told me they wanted to see my works from Brazil and decided to publish them! So, some time this year there will be a collection of poetry called 'Quinta Pitanga' consisting of everything I wrote in Bahia! In the prologue I am telling a short story about how it all happened, how I got there, what Quinta Pitanga is etc. The work already got a small prize, I sent an extract from the collection to a literary competition for ex-Yugoslavian countries and it got the third prize.You can see it here, in Croatian, though:"
konkursiregiona.net/maja-klaric-quinta-pitanga-ulaznica-2012-treca-nagrada-za-poeziju/
MARCELO "TCHELI" and IVANIA KUNZER (Brazil, 2008).  Tcheli and Ivania went to Tunisia in December where they presented the puppet show that they created during their residency at Sacatar. Some of the puppets were modeled after Sacatar staff members, who are now international stars! Find the link to a documentary about 'A Divina Comédia dos Bonecos' below (with English subtitles):

MARISTELA RIBEIRO (Brazil, 2007)
"I received a two-year grant from the Banco do Nordeste in the amount of US$50,000 to do 'interventions' with the assistance of the local population on the façades of selected houses in the rural area around Feira de Santana, Bahia, where I live. Governmental data shows that the poverty index of this region is among the worst in Brazil, even worse that the already dismal statistics for the rest of northeastern Brazil…The idea of this project is to create a favorable environment in which to reflect on questions of identity and cultural memory in order to recover cultural and artistic values that the communities where I will be working have either lost or that are disappearing, and to restore to the rural population a sense of pride."

MARGRIET WESTERHOF (Netherlands, 2011):
"The book that I started producing at Sacatar, called 'What is wrong with a second hand dress?,' is finished and the official presentation was on 8 September 2012.  I also published a very short animation (175 frames, 30 seconds) which is part of the project."
Check it out at:
behance.net/gallery/What-is-wrong-with-a-second-hand-dress-The-animation/5127413
RITA STASHULIONAK (Belarus>Poland, 2011) exhibited 'Rendezvous z Miastem'  at the Galeria Spatium Nowum in Elblag, Poland, through the end of January 2013.