Previous Newsletters
December 2014 / Number 22
---
 

SACATAR OPEN CALL 2015
GOOD NEWS!  We have finally determined the dates for the submission of applications for the Open Selection Process 2015-2016. Starting on March 1, 2015, artists of all ages, nationalities and artistic disciplines may submit their applications electronically. April 15, 2015, will be the deadline to receive applications. We will do pre-selection online during May and June.  We will convene a final selection committee in July.  Final results will be announced in late July 2015. We will award Fellowships from October 2015 through the end of 2016. Full details will be posted in February 2015 on our website www.sacatar.org under APPLICATION.  Good luck!
---
OCTOBER / DECEMBER 2014 FELLOWS
Sacatar hosted five Fellows in the October-December residency session.  Each engaged with the local culture in ways meaningful to their artistic practice, as you will see below:
GERMAINE INGRAM, a Pew Fellow, dancer and choreographer from Philadelphia, Pennsylvania, came to Sacatar through a partnership between the Sacatar Foundation and Dance-UP. She undertook research in the areas of dance, theater and music in order to understand how the Afro-descendent communities of Brazil maintain or forget their cultural heritage dating back to the time of slavery. In Itaparica, she visited Candomblé  terreiros (sites where African religions are still practiced) and witnessed ceremonies of various African traditions. In Salvador, she met several times with the local puppet theater troupe, A Roda, and its director Olga Gomez.  She also did a workshop at the Dance Department of the Universidade Federal da Bahia and gave classes to actors who are preparing a production of Shakespeare's Hamlet at the Teatro Vila Velha.  She collaborated with the musician and Sacatar Fellow LIUTAURAS JANUSAITIS for two performances of music and dance presented to the public during the Open Studio, held at the end of their residencies.

The Lebanese writer LINA EL-MOUNZER came to Sacatar through a partnership with UNESCO-Aschberg.  During her residency, she worked on a novel about the aftermath of the Lebanese civil war and how it has affected the art and lives of its people, tracing the psychological shrapnel of a single car bomb in 1984 through the lives of several survivors over twenty years. Lina also wrote the following poem, based on her impressions of Itaparica,  for the musician LIUTAURAS JANUSAITIS, who set it to music.

In a place like this Where the landscape is continuously made and unmade Coming back to its many familiar shapes in cycles of push and pull It is easy to imagine redrawing time. To redraw time, what would that look like? Instead of a line moored in a fixed past, extending toward an uncertain future In a place like this you could draw a circle instead. (It is a circle so vast, it might, from where you're standing, look like a line The way the horizon once seemed like the straight-edge end of the world To the first sailors Who feared they might plunge to their deaths But pressed on anyway to find new shores And came back bearing tales of a world without end.) If time is a circle it doesn't matter where you end and where you begin, because there are infinite beginnings and infinite endings. It is easier then to imagine the fading of your own capacity to witness In favor of someone else's. It is easier to imagine the tides receding and coming back, the constellations wheeling and returning, Without need of any witness. It is easier to imagine sailing off the edge of the world, Only to find yourself coming home, back to the place where you began. If time is a circle, you are always setting out and always returning. If time is a circle, every moment is every beginning and every end.
LIUTAURAS JANUSAITIS, a musician and composer from Lithuania, came to Sacatar through a partnership with UNESCO-Aschberg.  During his residency he met local musicians and worked in various musical styles, including jazz, electronic music and compositions for string orchestra.  However, he primarily dedicated himself to the composition of a CD of music, entitled Infinity, inspired by the peace and tranquility he found at Sacatar.  He collaborated with the other Fellows in residence on the creation of this CD. LINA EL-MOUNZER contributed a poem and the photographers MÁRIO MACILAU and ROMY POCZTARUK contributed photos for the CD cover. Liutauras also collaborated with GERMAINE INGRAM with whom he did two performances during the Open Studio held at the end of their residencies.
MÁRIO MACILAU, a photographer from Mozambique, came to Sacatar through a partnership with UNESCO-Aschberg.  Among other activities, he accompanied ROMY POCZTARUK in her explorations of the island in search of ruins to photograph.
ROMY POCZTARUK, a Brazilian photographer, continued work on a photographic series of architectural ruins, documenting places that have been forgotten. She photographed various historic locations on the island of Itaparica and across the bay in Salvador. She also visited several terreiros de Candomblé (sites where African religions are still practiced),  witnessed rituals and interviewed priestesses who maintain these African traditions.
---
IN MEMORIAM
 

The Instituto Sacatar greatly regrets the death of one of its closest friends, the French visual artist Serge Ungaro, who sailed to the island of Itaparica over 30 years ago. Fascinated by its culture and enchanted by its natural beauty, he never left the place. Serge was the owner of the inn Passageiros do Vento, just down the street from Sacatar.  Shortly before breakfast  on the morning of November 25, Serge excused himself. At nine that morning he was found lying in his bed, having suffered a massive heart attack. He was buried in the cemetery high on the hill above the town of Itaparica on the afternoon of November 26.  KAREN OSTROM (Canada>USA, 2013) observed about Serge, 'He was so sad about the injustices of the world and I think I see that in some of these pictures.
---
NEWS OF FELLOWS
Here is a small sampling of the extraordinary diversity of work currently produced by former Sacatar Fellows, some of which was developed during their residencies. We regret we can't publish everything we receive from former Fellows, but we love to know what you all are up to, so please stay in touch! (To learn more about our Fellows' experiences in Bahia in their own untranslated words, click on their individual names below to access their ALUMNI pages.)

ALICE MICELI (Brazil, 2011) is the winner of the PIPA 2014 Award of $100,000 Brazilian reais (around forty thousand dollars). She was also the winner of the PIPA People's Choice Award.  Here is a brief interview with Alice, with English subtitles.https://www.youtube.com/watch?feature=player_embedded&v=Aqiad7iAikk
CAMILA SPOSATI (Brazil, 2014) has ended the series of activities at her installation Teatro Anatômico da Terra, a temporary theater that descended five meters into the ground within the abandoned ruins of an old house in the heart of Itaparica's Historical Center. She initiated this project during her Sacatar residency in early 2014. The choreographer Carmen Paternostro (of the Universidade Federal da Bahia, UFBa) in partnership with dancers of the Teatro Castro Alves, and Tuzé de Abreu, a musician composer and professor at UFBa, were among the artists who presented memorable performances for the local community at the installation. Camila's Teatro Anatômico da Terra was one of the official activities of the 3rd Bienal da Bahia and, in accordance with its ephemeral nature, will be dismantled and buried in the first weeks of 2015.

CHERYL STRAYED (USA, 2003), who completed her first published book during her Sacatar residency, has produced the eponymous film based on her best-selling memoir, Wild. The film had a broad release in the USA in December. Both the Golden Globes and the Screen Actors' Guild have nominated Reese Witherspoon in the category of best actress for her portrayal of Cheryl.  Congratulations, Cheryl, and good luck with Oscar nominations!
CRISTINA MEGÍA (Spain, 2014) opened a solo exhibition on December 12 at Galeria Punto Rojo, in Granada, Spain. The exhibition of paintings includes the series of portraits called Bahianos, which she created during her residency at Sacatar. Bahianos is Cristina's response to the fact that the port of Salvador received more than one million African slaves during the 18th and 19th centuries. This cruel demographic phenomenon caused Cristina to reflect on its influence on the look of the people of Bahia. Cristina explains, 'My hand wanted to meditate on this inevitable presence; I don't know if as a tribute or an homage or as a confrontation, or simply as the result of my wish to understand.' The exhibition will run through January 2015.
 
DANY LERICHE and JEAN-MICHEL FICKINGER (France, 2009 & 2014) have shown work recently at the Galerie JOSEPH at the Musée Picasso in Paris, and at L'Art Pur Gallery in Riyahd, Saudi Arabia. They also exhibited Divinités Noirs, (photo above), at the Embassy of France in Washington, DC, USA. Dany and Jean-Michel are in Mali this month where they continue their photographic work documenting spiritual practices in African cultures and in cultures of African descent.

DIANA BLOK (Uruguay>Netherlands, 2003) continues to return frequently to Brazil.  As part of the Tempo Festival of Scenic Arts held in October, Diana exhibited photographs she made of famous Brazilian actors and actresses dressed as people of the opposite sex whom they admire.  The large-format photos, installed along the seashore of Rio de Janeiro from Flamengo to Recreio, were seen by the thousands of people who stroll these famous walkways day and night. http://tempofestival.com.br/programacao/adventures-in-cross-casting-exposicao-internacional-nl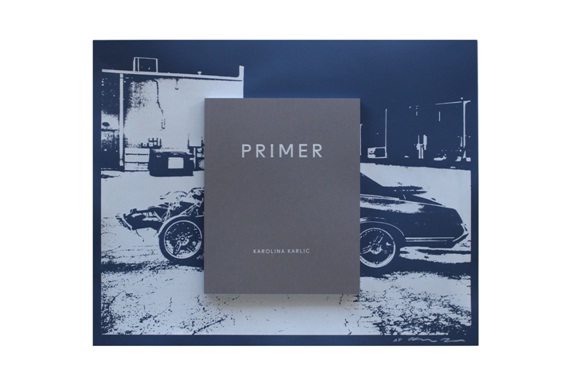 KAROLINA KARLIC (USA, 2014) announces the publication of Primer, a large-format monograph that runs 164 pages, including an afterword by Sally Stein. The first printing is offered in an edition of 100, plus a Collector's Edition of 25 that includes a signed artist print of Body Shop Boys, Metro Detroit. Karolina writes, 'Primer- Elementarz is an exploration of the personal stories of those who exist behind this auto industry, along with charting the evolution (or de-evolution) of that industry…  From my personal perspective, this book tracks the reach of the U.S. auto industry, stretching from Detroit, to California, to Eastern Europe, where my father—an engineer—implemented new industrial plants. As a family chronicle, the book's five chapters are punctuated by my father's attempts to communicate with me via texts written from abroad, one sign of his lifelong effort to sustain both his family and his own identity during many shifts in residence and work. Finally, the large format photographs depict my own path, which represents the industrial showcases of the auto industry throughout the American landscape alongside my extended family's everyday life in Poland. If there's underlying drama in this chronicle, it's how these two worlds connect and disconnect. Man's quest for work, sustainability, escape, isolation, and advancement, tread the book's pages. These desires, which are familiar to many immigrants from abroad including Eastern Europe, and to the black workers who moved their families north during the Great Migration of the interwar period, echo throughout the book, as a testament to an American dream that beckons to a huge variety of peoples even as it does not always deliver on its promises.'  During her Sacatar residency, Karolina researched rubber production in Brazil and its relationship to the U.S. auto industry in the early part of the twentieth century.
MARIELSON CARVALHO (Brazil, 2014) opened the fourth edition of FLICA – the Literary Festival of Cachoeira — as one of the panelists in O tempo de Caymmi, a presentation about the work of the famous poet and composer of Bahia, Dorival Caymmi. Stella Caymmi, Dorival Caymmi's granddaughter, seated by Marielson's side, also participated in the debate about the poet, his work and time.
MATT SHERIDAN (USA, 2012) returned to Salvador, Bahia, in August and September.  Among other activities, he gave a talk at the Universidade Federal in Cachoeira, followed by an experimental projection at a local bar. He also worked on mixing live video animation in the Pelourinho @ Atelier Barbara Tercia and did a collaborative projection called Fire Water in Rio Vermelho with Kithi Oliveira of MZAD Eventos, which you can view here: http://vimeo.com/104412895
NDIKHUMBULE NGQINAMBI (South Africa, 2010) paid a visit to Sacatar in mid-November.  He travelled to Sao Paulo in November to work with Andrea Pivatto, who has previously choreographed works based on Ndhikumbule's paintings.  They plan to take Andrea's company to Cape Town to perform these works next year.
NÉLE AZEVEDO (Brazil, 2013) was invited to take the installation Monumento Mínimo to the UK to mark the centenary of the beginning of the First World War. The performance featured the participation of hundreds of people and  was largely reported in the British media. The Guardian, BBC and Birmingham Mail wrote articles about the installation. From the Birmingham Mail:
"An army of 5,000 ice sculptures slowly melting in the sunshine brought home to Birmingham the sacrifices so many were forced to endure in World War I.
Thousands gathered from across the world for their chance to place a frozen figure in memory of the men and women – not just soldiers – whose lives were taken during the conflict on the steps in Chamberlain Square.
With tears in their eyes, some decorated their sculptures with flowers and ribbons in memory of relatives who died in the trenches and at home.
The sculptures may have melted, but the memories of the poignant display will stay with the descendants forever.
Dark clouds and torrential rain had threatened to dominate yesterday's event to mark the 100 years since the start of WWI.
But as soon as the first of the detailed sculptures were set on the steps, the blue skies and sunshine returned.
One of the first to place a carving was Pam Brooking whose great grandfather John Osborne Walford fought in the war with the 8th Batallion Worcester Regiment."
REYNOLD REYNOLDS (USA>Germany, 2006) is an exhibiting artist at the Palais de Tokyo in Paris, through 11 January 2015. The exhibition, Inside, 'offers visitors a passage to the interior of the self, for which the exhibition space itself serves as a metaphor. This immense odyssey, both physical and psychological, invites us to walk through the two floors of the Palais de Tokyo which have been transformed by artists in such a way that, from one installation to the next, we remain constantly immersed in the works, which lead us within ourselves – from our skin to our most intimate thoughts.'

SIDIKI CONDE (Guinea>USA, 2004) and DEBORAH ROSS (USA, 2004) are exhibiting Deborah's watercolors at Eileen Fisher Gallery on East 9th Street in New York starting December 4. All proceeds go to Sidiki and Deborah's campaign in Guinea. They are volunteering with UNICEF to help with the communication effort to fight Ebola. Sidiki will be doing TV and radio performances, while Deborah will run painting workshops for survivors and orphans.
Here is their campaign. Please take a look and contribute:https://www.indiegogo.com/projects/music-and-art-help-spread-the-word-about-ebola/x/253428
---
GIFTS TO THE FOUNDATION
Today marks the last day of 2014, another eventful year at both the Sacatar Foundation, headquartered in California, and the Instituto Sacatar where I arrived yesterday for an annual visit.  While perusing this latest edition of the Jornal Sacatar prepared by our team in Bahia, I asked whether I might add a final note of THANKS to all former Sacatar Fellows who continue to stay in touch with us, providing us with further details and evidence of how their experiences at our residency program have impacted their careers in their home countries as well as through international exhibitions, performances, readings, lectures, etc.  Such acknowledgment is of paramount importance to funders.  Thank you.
I have been a long-time collector of both antique and hand-made frames.  The citizens of Itaparica make use of nearly everything, and in that spirit, this year I took several days to match up works donated by Sacatar Fellows (that had been in storage in our flat files in Pasadena) with available frames in my collection.  The recycled results, as assembled by a professional framer in Los Angeles County, are gratifying.  We are gradually preparing a group exhibition of works donated by Sacatar Fellows, and a growing number of those pieces are now carefully framed and ready to display.  All works remain the property of the Sacatar Foundation and will, we expect, be of enjoyment to friends of Sacatar in the U.S. and, we anticipate, to museums and galleries.  Below is just a brief sampling of works that were donated by Sacatar Fellows.  As framed, the pieces might suggest the feeling of timelessness visitors sense on the island of Itaparica, and they also remind us of the significance of each artist's presence in Bahia.
Feliz Ano Novo!
Mitch Loch
President
Sacatar Foundation